Views sought on completed Llandrindod Lake Park works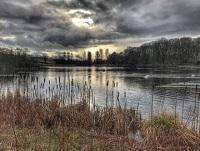 11 March 2020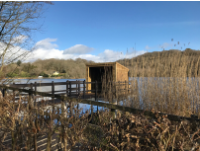 Views are being sought from local residents, community groups and anyone who enjoys visiting the lake in Llandrindod Wells to capture feedback now that work to install a new bird hide, boardwalk and fishing platform has been completed, Powys County Council has said.
Before the work was started a user-survey was undertaken showing that 77 per cent of respondents thought that improvements were needed to the fishing and bird watching facilities with 80 per cent thinking that they would improve the lake park. Anyone wishing to complete the follow up survey can do so by going to www.powys.gov.uk and typing "Current Consultations" in the search box. The survey closes on Sunday 29 March 2020.
Cabinet Member for Economic Development, Councillor James Evans said; "The work has created opportunities for residents and visitors alike to utilise the accessible bird hide designed to enable access for wheelchairs and buggies so people can get close to nature. The hide has viewing slots at different heights to allow adults, children and wheelchair users to view the wildlife.
"The roof provides an all-weather, all-year round experience for all including schools for educational purposes. Bi-lingual interpretation boards will be fitted soon inside providing information on the local wildlife. The hide will enhance bird watching facilities to promote activity in the area and encourage more interest from the community.
"The new boardwalk has been constructed from a non-slip recycled material allowing year-round access and minimal maintenance for at least 30 years
"One of two new fishing platforms has been installed replacing an old platform which was in poor condition. The new platform is made from a glass reinforced polyester, using approximately 8000 recycled plastic bottles, so great for the environment."