Residents warned not to fall for scams amidst the Coronavirus pandemic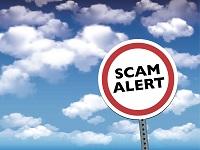 26 March 2020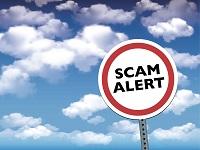 We are facing a time of unprecedented uncertainty, with many of us anxious about how the Coronavirus pandemic will affect us for the foreseeable future.
It is at times like this, as we search for information and answers to our questions, that we can be vulnerable to scammers, who unfortunately look to take advantage of the situation for personal gain.
Powys County Council would like to remind residents to remain vigilant against such behaviour. Here are just a few that you should be aware of.
Although there is a huge amount of community spirit and camaraderie at this time, scammers have been known to take advantage of this and knock at your door claiming to offer help.
Some individuals are posing as door-to-door coronavirus testers or from the Centre Disease Control wanting to ask questions, in order to gain entry to people's homes. Nobody, and specifically not the NHS nor the police, are conducting such tests or questionnaire. If anyone attends your property and claims to be conducting such tests, please call the police on 999.
Other scams involve phishing emails from people pretending to be a trustworthy organisation. Pease be aware of various emails containing links which them prompt you to divulge personal information such as login details, bank details, etc - NEVER give these details out, however legitimate the email may seem.
Remember:
Don't click on links from email sources you don't know - this could result in a virus being downloaded onto your computer or device.
Watch out for emails claiming to be from the Centre for Disease Control and Prevention (CDC) or experts saying they have information about the virus.
Ignore online offers for vaccinations - these are false.
Do your homework when it comes to giving donations, whether through charities or crowdfunding sites. Don't let anyone rush you into making a donation. If someone wants a donation in cash, by gift card, or by bank/money transfer, don't do it.
Emails claiming to be from the government offering tax rebates to support people throughout these unprecedented times are doing the rounds, the Chartered Trading Standards Institute (CTSI) has confirmed. The emails, which look official, inform the recipient of the rebate amount and request they click a link to receive it. Recipients are then asked personal details, including their credit card number and address. These details allow the scammer to take money directly from the recipient's bank account.
There are also reports of several 'coronavirus update' apps, which claim to provide updates on the virus. These fake apps contain a form of 'ransomware', named CovidLock, which upon downloading, locks the phone and displays a message demanding that the user pay a sum of money to unlock it. These apps are available to download from various unofficial websites. Phone users are advised to only download apps directly from the Apple Store, or Android Play Store as these are safety checked by the platforms.
If you would like to stay up to date with trusted news and advice on the COVID-19 coronavirus outbreak, check for updates from Public Health Wales, Welsh Government and the World Health Organisation (WHO).
Rogue traders have also been found to be selling counterfeit hand sanitiser and medical equipment, and, although not yet in the UK, other countries have reported illicit sellers offering counterfeit COVID-19 test kits. Please be weary and only by products from a reputable source.
Cllr James Evans, Cabinet Member for Economic Development, Housing and Regulatory Services said:
"This is a worrying time for us all, and although our intention isn't to add to people's anxiety, we want to make sure our residents are fully informed of any potential scams doing the rounds at this difficult time.
"Unfortunately, there always seem to be a few people who look to take advantage of people at their most vulnerable, but thankfully these individuals are in the minority. It is heartening to see, that despite the uncertainty communities are rallying together to support one another through this crisis.
"All we ask is that you remain vigilant. Remember, if something doesn't feel right, it probably isn't, so don't take the risk."
If you require any advice or assistance, please do not hesitate to contact the council's Trading Standards team on 01874 623420, 03454 040506 or trading.standards@powys.gov.uk.