Council and Police provide new advice on businesses requirements with Covid-19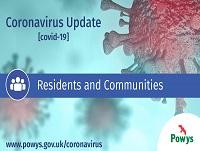 26 March 2020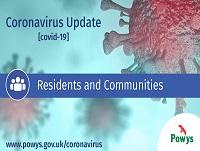 Powys County Council and Dyfed Powys Police are reminding businesses in Powys, in the wake of the Covid-19 virus, to comply with advice.
This warning comes after the United Kingdom Governments and Welsh Governments recent announcements concerning businesses and premises that must shut as of midnight on 23rd March 2020, the closures being introduced due to the threat to public health from Covid-19.
Businesses which are allowed to remain open must meet strict requirements to ensure customers and employees are not put at risk which is crucial.
Employers who have people in their offices or onsite should ensure that employees are able to follow Public Health England guidelines including, where possible, maintaining a 2-metre distance from others, and washing their hands with soap and water regularly for at least 20 seconds (or using hand sanitiser gel if soap and water is not available).
Businesses are being reminded that it is their responsibility to check whether they must close or whether any of the limited exceptions may apply and they are advised to check the government's website for guidance as this information changes: https://www.gov.uk/government/publications/further-businesses-and-premises-to-close
All businesses operating in contravention to the Government's announcement will be committing an offence and putting the health of the public at risk by encouraging the spread of Covid-19.
Environmental Health and Trading Standards Officers, with Police support will be actively monitoring compliance, and any business that breaches the closure will be subject to significant enforcement sanctions including Prohibition Notices and the penalty of unlimited fines.
County Councillor James Evans, Portfolio holder for Environmental health and Trading Standards with Powys County Council commented: "These are unprecedented times and we need your support to reduce the threat to our Powys citizens and to our health services trying to deal with this awful virus. Please take heed of this advice and we want to work with you and need your support. We would also urge bed and breakfast providers and holiday accommodation providers to advise their customers to return to their main residence to reduce the burden on our services."
Dyfed Powys Police Temporary-Chief Inspector Adam Ellis added; "These measures are in place to keep the public of Powys safe and working in partnership with Council colleagues we are committed to prevent the spread of Covid-19. The public and businesses must understand that the reported requirements will be enforced and if necessary action will be taken however we hope that by working together that such instances will be kept to a minimum which in turn will allow for front line services to continue with the priority of keeping Powys safe."
The requirement to close will remain in operation until such time as the government believe there is enough evidence to support a relaxation in the restrictions and the Government is reviewing the situation in approximately three weeks-time
Businesses can obtain support from Government through measures introduced by Governments detailed in the attached link: https://gov.wales/business-support
If anyone has any concerns regarding their business or a business operating when it should be closed, please contact the agencies as follows: