Bin collections to take place as normal over Easter holidays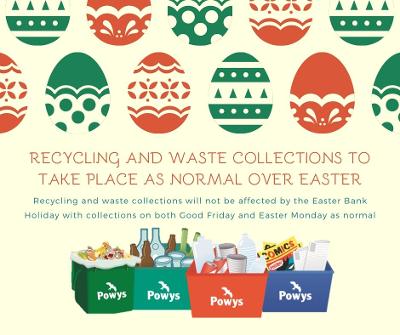 7 April 2020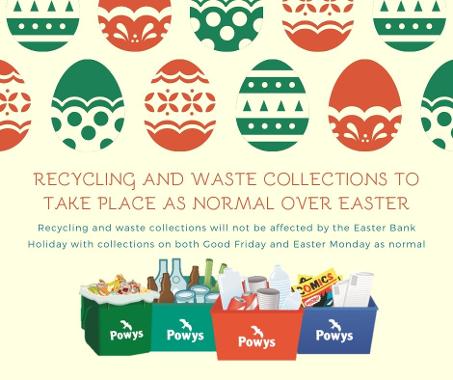 Recycling and waste collections will not be affected by the Easter Bank Holiday with collections on both Good Friday and Easter Monday as normal.
Residents are being reminded that they should put their recycling and waste out by 7.30am on their normal collection day ready for the crews to collect as normal.
Cllr Heulwen Hulme, Cabinet Member for Waste and Recycling, said: "During these difficult times, we want to keep things as normal as we can and our intention is to collect all recycling and waste over the Easter weekend. So if your collection day falls on either Good Friday or Easter Monday, please put your bins and containers out for collection as usual.
"We would like to extend a big thank you to all the crews who, with careful planning and their continued commitment, are continuing with our weekly recycling kerbside collections and collections of residual rubbish and garden waste across the county."
Any additional cardboard packaging, envelopes and cards can be recycled in your blue paper and card box and hard plastic items and silver foil packaging usually found around Easter eggs can be recycled in your red plastic and cans box.
Often, the long weekend is a time that many of us tackle the garden or a DIY project, but please remember that currently all our Household Waste and Recycling Centres are closed and any non-essential travel to community recycling sites is not allowed. Any additional waste must be kept safely at home until the sites reopen and travel restrictions are lifted.