Council applies for Operators Licence for Abermule Business Park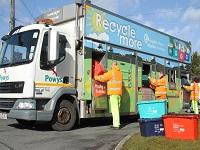 8 April 2020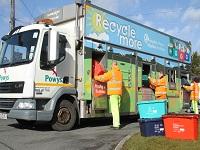 Work has progressed on the Abermule Business Park to build a new recycling bulking facility.
"Once up and running, the site at Abermule will receive the recycling collected from across north Powys, where it will be bulked and then transferred to processors to be recycled into new products." explains Cllr Heulwen Hulme, Cabinet Member for Waste and Recycling.
"Enabling material to be collected from the kerbside and bulked in this way ensures that we minimise our carbon footprint in line with the Welsh Government's circular economy aspirations. It will also achieve a higher recycling rate, with more material successfully being recovered.
"By building these better facilities we are not only aiming to reach the strict Welsh Government targets for recycling, but we are also creating a more sustainable future and a better environment for the next generation."
As part of the planned process of getting the Abermule site up and running, we are applying to the Traffic Commissioner to add the Abermule facility as an Operating Centre on the Councils Operator's Licence next week.
This licence is issued by the Traffic Commissioner for Wales Office and will allow the site to become an operating centre where the current fleet of 30 waste and recycling vehicles will be kept when not in use out collecting across the north of the county.
Operator's Licences are required for any organisation, company or individual who uses heavy goods vehicles and as part of the licence. An organisation must have permission to keep vehicles in a specific location when they are not in use.
More information and a copy of the application are available from the Traffic Commissioner's Office.