Countryside access in Powys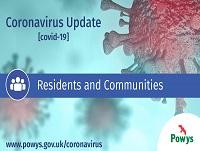 9 April 2020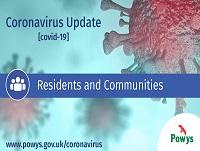 Powys residents are being reminded to follow health guidelines when exercising over the Bank Holiday to protect the NHS and Save Lives.
While restrictions on our daily lives have been introduced to try to control the spread of COVID 19, residents are still allowed to take daily exercise and that includes going for a walk or cycle in the Powys countryside.
Taking a walk or cycling in our local area should not pose a high risk to others, with careful behaviour and attention to good hygiene. We have been really pleased to find that most people are being thoughtful when they take exercise in the countryside and are staying in their local area. We would like to say a big thank you to you all for that.
We know that our local communities will want to enjoy the sunshine but when you are out taking exercise, in addition to good hygiene, please remember that:
If you are with members of your household, you can walk or cycle together. Otherwise, you must take your exercise alone. Whilst it is normally great to enjoy the countryside with friends, it is vitally important that we do not do that at the moment. When people congregate, it increases the risk of COVID 19 transmission. Because of this, the police can disperse groups of people who are not from the same household.
Please, please stay close to home. Groups of cars at popular sites means congregation of people. Remember that Natural Resources Wales car parks and many other popular car parking spots are closed at the moment, for that reason.
When passing close to houses or through farmyards, where there may be residents present, please be particularly respectful. Normally, it is good to spend time talking to the people that we see; at the moment we cannot afford to do that, unless there is an emergency, as we may inadvertently be spreading COVID 19. Please make sure that you are not within 2 metres of people that you meet, if they are not from your household.
It is especially important to make sure that dogs are kept under close control and that gates are left as you find them. If you do not do that, it will add extra work and worry for farmers, at a very difficult time. Remember that lambing and other livestock management must continue. This means that farmers and their families will not be able to stay in their homes to carry out their work; your behaviour can make a huge difference to their ability to do that.
The Countryside Services team can offer information and support to both members of the public and landowners. For landowners, we can offer advice about signage that can be put up and can also talk to you about permissive paths. These don't replace, close or divert a public right of way, but if they are good quality routes, a permissive path can be a useful short-term option to help you with managing your land during the outbreak.
For more information, please contact us by email at rights.of.way@powys.gov.uk or telephone on 01597 827500.
For the latest updates and information about coronavirus (COVID-19) from the council, please visit www.powys.gov.uk/coronavirus