We need more care workers says council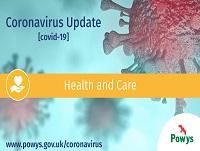 17 April 2020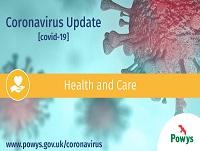 Care workers in Powys are doing a great job in looking after our older people and vulnerable residents during the Covid-19 pandemic.
However, we need more people. That's the message from Powys County Council.
Powys County Council is looking for care staff throughout the county. Full training will be given and these posts will be working alongside care providers, in care homes and in partnership with Powys Teaching Health Board. There are a wide variety of working patterns available with some covering evenings and weekends.
Cllr. Myfanwy Alexander is Cabinet Member for Adult Social Care with Powys County Council and she explained: "If you are looking for a way to contribute to the fight against COVID-19, then these opportunities in the care sector could be for you. You will be able to take pride in doing your utmost in this difficult time and laying down the foundations of a great career at the same time.
"If you haven't thought about the care sector before, now is the time. Step up and make the world of difference," added Cllr. Alexander.
If you are interested in one of these roles, please visit https://recruitment.powys.gov.uk/ or call 01597 826409. The council is also looking for other posts to help safeguard the county during the Covid19 pandemic. All posts are advertised on the webpage above.