Powys businesses receive cash boost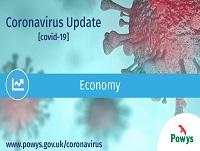 17 April 2020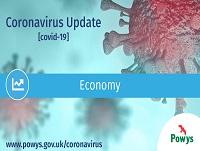 Many businesses across Powys are receiving a much-need financial boost during COVID-19.
Powys County Council has been awarding millions of pounds worth of reliefs and grants to local businesses thanks to funding made available from UK Government.
As of 17 April, a total of £33m in grants has been paid out to 2,776 businesses in Powys.
The funding package includes £10,000 grants to all businesses eligible for Small Business Rates Relief with a rateable value of £12,000 or less, and grants of £25,000 to businesses in the retail, leisure and hospitality sector with a rateable value of between £12,001 and £51,000.
In addition to these cash grants, all retail, leisure and hospitality businesses in Powys with a rateable value of less than £500,000 are receiving a year-long business rates holiday.
Cllr Aled Davies, Deputy Leader and Cabinet Member for Finance, said: "I'm delighted that the council has been able to respond so well to the needs of local businesses during the COVID-19 outbreak.
"The emergency funding is providing many hard-pressed businesses with a lifeline right now and so awarding reliefs and grants has been, and remains, a top priority.
"The majority of payments have been made very quickly and this is testament to those working diligently behind the scenes.
"I applaud the Finance Team at Powys County Council for their swift response during this crisis. They are working tirelessly to ensure the funds get out of the door to the right people and I thank them for this.
"I'm pleased that the council's new financial helpline is offering many people with the support they need. The phone number is being well-used with a very high volume of calls coming through.
"Thank you for your patience so far, but we must continue to ask for it at this difficult time. The team are busy answering calls, verifying forms, and completing payments but there is a lot to work through to ensure things are done properly.
"I want to reassure everyone that we continue to work closely with Welsh Government at this difficult time, and await the next tranche of funding to complete the job."
"I know the rates grant won't help all businesses facing significant financial pressures, but along with the Welsh and UK governments, we will continue to do what we can to support businesses.
"Welsh Government have recently announced a £500m Economic Resilience Fund which will provide extra financial support to businesses and charities with cash flow problems.
"I would urge businesses to check if they qualify for this support and apply. More information can be found on the Business Wales website."
Powys County Council has written to all businesses eligible for the grants. If circumstances have changed and information needs to be sent to a different address, please let the council know.
If you think you are entitled to one of the support grants and have not heard from us, or if you are in need financial support, please contact the dedicated helpline on 01597 826345 (open weekdays between 9am - 1pm).
Further updates on how we're helping businesses can be viewed here: www.powys.gov.uk/coronavirus/helpforbusinesses
For the latest updates and information about coronavirus (COVID-19) from the council, please visit www.powys.gov.uk/coronavirus