Next phase for independent living project in Welshpool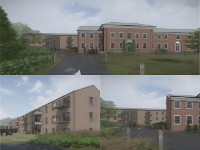 April 20, 2020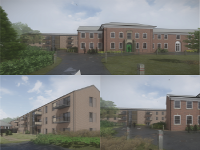 A pre-planning application consultation is currently underway as part of the proposed redevelopment of a Welshpool Council building to provide independent living for older people.
During such exceptionally challenging times in response to the Covid-19 pandemic, significant and positive developments continue.
Housing Association ClwydAlyn is currently running its initial consultation phase (prior to applying for planning permission) for the conversion of the County Council's Neuadd Maldwyn building on Severn Road into 66 self contained apartments for independent living accommodation. The scheme will include communal facilities for events and activities, a restaurant, onsite parking and landscaped areas. The apartments are for individuals aged 60 years and over with an assessed care or support need and are a resident in or have close connections to the Powys area.
The proposed project - in partnership with Powys County Council - seeks to provide accommodation in the town which gives tenants their 'own front door' but also has 24/7 support on site, should they require it.
Newtown already has this type of accommodation at Llys Glan yr Afon, a 48 apartment scheme which the Council developed in conjunction with another Housing Association.
Councillor Myfanwy Alexander, is Powys County Council's Cabinet Member for Adult Social Care with Powys County Council. She explained: "Making sure that our residents have a range of options for their later years is a top priority for Powys County Council and we believe that working in partnership with ClwydAlyn, the redevelopment of Neuadd Maldwyn will provide an attractive option for many local people."
Local people can find details of the proposal on ClwydAlyn's website at www.clwydalyn.co.uk/Neuadd-Maldwyn/ this stage of the planning process runs until April 26th, 2020 but there will also be an opportunity to comment when the full planning application is submitted. Details of how to respond to ClwydAlyn are available on this website or you can email the housing association with comments at communications@clwydalyn.co.uk
People in the Welshpool area can also get an online glimpse of this type of independent living in a ClwydAlyn video at https://www.youtube.com/watch?v=sRg-AGQ8is8 (English version) or https://youtu.be/ur0pGixt9Mw (Welsh version).