Countryside users thanked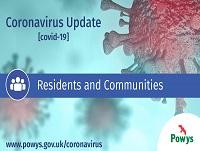 20 April 2020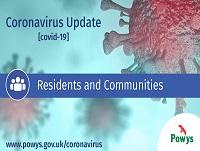 Powys residents have been thanked for following national health guidelines while in the countryside during the Easter weekend and urged to do the same for the May Bank Holiday.
Walking and cycling in the countryside are allowed under restrictions introduced to slow the spread of Coronavirus provided they are carried out safely and follow government advice on good hygiene and social distancing. Welsh Government advice is that everyone should hand wash or sanitise after touching any shared surfaces, such as stiles and gates.
Deputy Leader and Cabinet Member for Countryside, Councillor Aled Davies said: "We were pleased that visitors listened to our pleas to stay away from Powys during the Easter break and that residents who used our rights of way were responsible and now we are asking that they do the same for the coming May Bank Holiday. Government advice is that taking a walk or cycling should not pose a risk to others provided it is done safely following good hygiene and social distancing regulations. We would also remind walkers and cyclists that the routes they follow cross farmland and often close to homes, so we ask them to be considerate and respectful of others.
"The lambing season is in full swing so it is especially important that walkers keep dogs on a lead and that gates are left as they are found; the countryside code should be followed at all times. It is likely that the restrictions will be in place for some time and we urge all users to respect the interests of all people who use the outdoors and follow government advice to only walk locally, for a short period of daily exercise, to avoid crowded areas and to practice social distancing."
Echoing the need for responsible access, Nigel Hollett, Director, CLA Cymru said:
"It is vital that authorities work together with farmers and land managers to ensure the restrictions are effective and appropriately communicated. At this critical time, it's vital that farmers and rural businesses can continue to deliver vital food to the nation. Farms, by their very nature tend to be relatively isolated businesses. Today the running of individual farms is reliant on few - usually family-related - people. Contagion here can not only bring farm-businesses to a halt but also cause additional issues in sustaining animal welfare and food production."
"Where people can still enjoy the use of the countryside they should still abide by the 2-metre social distancing guideline - and, of course, follow the Countryside Code."
NFU Cymru County Adviser for Brecon and Radnor, Stella Owen, said: "It is vital that people adhere to the rules that you should not travel but exercise outside, close to your home, as stated by Hannah Blythyn, Deputy Minister for Housing and Local Government.
"Farmers have observed a significant increase in the use of public rights of way and access land in the light of the social distancing guidelines introduced during the COVID-19 pandemic.
"This has led to concerns and anxiety where public rights of way are in close proximity to homes and farmyards, particularly so in instances where farmers or members of their families fall into the vulnerable category.
"There are also concerns about dogs being allowed off their leads during peak lambing season and gates being left open.
"NFU Cymru continues to raise the concerns of our members with regards to public rights of way and public access with Welsh Government. The union has asked that a process be established whereby public rights of way can be temporarily diverted away from homes and farmyards."
Speaking from his farm in North Wales, FUW President Glyn Roberts said: "There can be no confusion - public paths and land in many popular areas across Wales have been closed to avoid crowds gathering for very good reason.
"However, despite clear guidance we are still receiving calls from members that the public are ignoring the lockdown rules, leaving gates open and letting their dogs run free on land with livestock on.
"What the public must remember is that when they use public paths crossing farmland, they are walking through someone's home and workplace. Many of our farmers fall into the vulnerable category and will be self-isolating while also tending to their livestock. If they fall ill, there will be nobody to care for their animals and produce the food we all need."
Cllr Davies added; "We know that our residents want to enjoy the countryside when out taking exercise, but please remember follow the guidelines."
Guidelines
If you are with members of your household, you can walk or cycle together. Otherwise, you must take your exercise alone.
Do not congregate, it increases the risk of COVID 19 transmission. Police can disperse groups of people who are not from the same household.
Stay close to home. Car parks and many other popular parking spots are closed to prevent crowds.
When passing close to houses or through farmyards, where there may be residents present, please be particularly respectful. Make sure you are at least 2 metres away from people.
It is especially important to make sure that dogs are kept under close control and that gates are left as you find them. If you do not do that, it will add extra work and worry for farmers, at a very difficult time. Remember that lambing and other livestock management must continue. This means that farmers and their families will not be able to stay in their homes to carry out their work; your behaviour can make a huge difference to their ability to do that.
The Countryside Services team can offer information and support to both members of the public and landowners. For landowners, we can offer advice about signage that can be put up and can also talk to you about permissive paths. These don't replace, close or divert a public right of way, but if they are good quality routes, a permissive path can be a useful short-term option to help you with managing public access over your land during the crisis.
For more information, please contact us by email at rights.of.way@powys.gov.uk or telephone on 01597 827500