Residents are reminded to keep hold of additional recycling during lockdown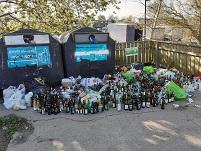 20 April 2020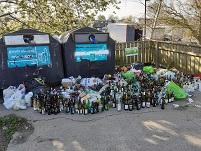 Whilst the world faces the coronavirus pandemic, we are all adjusting to a completely different way of life, full of change and uncertainty. In turn, the council has had to change the way some of its services are being delivered to ensure the needs of the most vulnerable residents are met and the county's communities and workforce are kept safe.
Currently, with careful planning and the commitment of our crews, we are continuing with the weekly recycling kerbside collections along with collections of residual rubbish and garden waste across the county. However, we have had to suspend our bulky waste collection service and close our Household Waste and Recycling Centres. Trips to the local community recycling sites are also discouraged on the grounds of non-essential travel.
As we are prioritising collecting waste from households, we understandably do not have the resource to empty these community recycling sites as regularly as normal. However, many people are still choosing to make the trip to these sites to dispose of additional waste. We are asking that if you do go and you find the bins full, please DO NOT leave your recycling on the ground. This not only causes an environmental hazard, but also puts additional pressure on our already stretched crews.
"There is absolutely no excuse for causing such a mess and fly-tipping rubbish at the community recycling sites. But at a time when everyone is doing their upmost to stay safe and stop the spread of the coronavirus, anti-social acts of this kind are unacceptable." exclaims Cllr Heulwen Hulme, Cabinet Member for Waste and Recycling.
"Due to the current pandemic, we currently have a much-reduced workforce. Crew members who are fit and healthy are working extra hard to ensure your kerbside collections of waste and recycling continue as normal. Recycling centres are closed and trips to your community recycling sites are discouraged.
"Residents who have accumulated additional waste are asked to bear with us during this difficult time and hold on to their rubbish safely at their home until the lockdown period and travel restrictions come to an end.
"In these unprecedented times, with key workers already going above and beyond to maintain vital services and support our communities, we should not have to allocate additional resources to clear up after the irresponsible few. We are doing our best, all we ask is that you do your best too."
Members of the public are urged to report any incidences of fly-tipping at the community recycling sites, or elsewhere. This, along with the CCTV we have in place across the county, will ensure we catch and reprimand offenders appropriately. Individuals found guilty of dumping rubbish irresponsibly can expect to receive the appropriate penalties. Community Recycling Sites which continue to be misused may be withdrawn completely.
If you require extra recycling containers for your kerbside collection (paper and card, plastic and cans, and glass) these can be requested online: www.powys.gov.uk/recycle