Will you join the virtual Powys street party?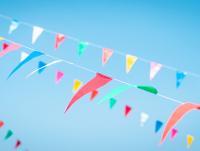 28 April 2020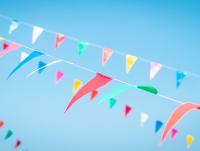 Residents of Powys are being urged to come up with their own creative ways of marking the 75th anniversary of VE Day, on Friday, 8 May.
With traditional street parties and other events planned in the county cancelled, due to the Covid 19 outbreak and the need for social distancing, Powys County Council's Armed Forces Champion and Leader, Councillor Rosemarie Harris is calling for individual households to find their own way of marking the occasion and paying tribute to the sacrifices made.
Whether it is your own mini garden party, a poster displayed proudly in your window or a dinner made from the ingredients available 75 years ago, to those living on Second World War rations, the choice is yours.
Councillor Harris said:
"I would urge as many people as possible to mark the occasion in whatever way they see fit. As long as the celebrations are held in your own home or garden, with just those you usually live with, following national social distancing guidelines.
"I would like to see us all make an effort to say thank you and mark the sacrifices made by our armed forces, and many others, during the Second World War, as they fought valiantly to secure our country's freedom and that of many others across Europe.
"Whatever you decide to do, we would like you to share your plans and tributes with us by tagging the Powys County Council Twitter page, @PowysCC, using #PowysVEDaycelebrations.
"We will also consider doing something later in the year to mark the anniversary, after the threat of Covid 19 has lifted, because the anniversary is so important."
The Royal British Legion has plans for the following on Friday, 8 May:
A two-minute silence at 11am;
A live VE Day webcast at 11.15am;
National moments of Remembrance and thanksgiving;
A UK-wide singalong to Vera Lynn's We'll Meet Again at 9pm.
It also has VE Day learning packs available for children aged seven - 14, which can be downloaded from its website.
VE Day 75 is also arranging a 'Nation's Toast to the Heroes of WW2' at 3pm on Friday, 8 May. People are being asked to join in from the safety of their own home by standing up and raising a glass of refreshment of their choice and undertaking the following 'toast': "To those who gave so much, we thank you.