​​​​​​​Financial impact of Coronavirus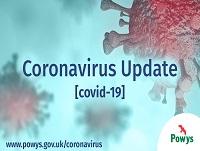 30 April 2020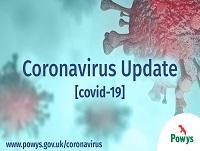 The financial impact of Coronavirus will have a long-term impact on Powys County Council unless it receives further financial support from Welsh Government, the Cabinet will be told.
A financial assessment, to be considered by the cabinet on Tuesday (May 5) shows the pandemic could potentially cost the county council more than £3 million each month through lost income and additional costs.
Deputy Leader and Cabinet Member for Finance, Councillor Aled Davies said: "While it is too early to understand the full impact of Coronavirus initial work shows that the council could be facing a deficit of more than £10 million by the end of June.
"The Council implemented its Business Continuity Plan quickly in response to the pandemic in order to focus on 'Business critical' activities and step-down other areas. All service areas were affected with many staff withdrawn from their usual duties and redeployed to essential services.
"We have already seen a significant financial impact on the council, residents, communities and businesses as a result of the pandemic. It is vital that we understand how this will potentially impact the Council's budget now and into the future.
"We are in regular contact with Welsh Government to highlight the authority's financial position and press for substantial support.
"The council has suffered a significant loss of income through the closure of leisure centres, cultural venues, car parks, losses from property and industrial units, chargeable highway work and transport revenue.
"Costs have also increased as we have responded to the outbreak and the £10.7 million cost reductions planned for this financial year are at significant risk. This has resulted in the council potentially facing a £3.4 million per month shortfall creating a possible £10 million deficit by the end of June.
"Based on our initial assessment it is clear the outbreak has had an unprecedented impact on the council's finances. We have very limited general reserves which would be quickly exhausted without support from the Welsh Government, we must act now and take every opportunity to reduce costs to protect the council's budget.
"But, without substantial government support the county council's financial future will be very bleak with a huge impact on the crucial local services our residents depend upon." he added.