Remember to keep your distance - stay an Alun Wyn Jones away from other people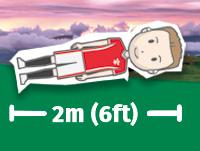 6th May 2020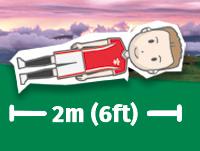 Are you managing to keep your distance when you go out?
If you are having trouble remembering the 2m social distancing rule here are a few things that match it: the height of a doorway, the length of a bed, a sofa, bathtub or a surfboard. Or if you would like to think of a tall celebrity instead, try: John Cleese, Peter Crouch or Alun Wyn Jones.
Powys residents are being asked not to get complacent as the coronavirus guidelines first published on 24 March in Wales continue to be applied and the number of recorded cases of the illness in the county rises.
It is also important to avoid unnecessary travel and to wash your hands regularly.
If you are leaving your home to exercise, you should do this close to where you live and not take part in risky activities which could increase the pressure on the emergency services. You should also be considerate towards landowners and keep any dogs you are exercising under close control at all times.
People from outside the county are being asked to continue to stay away from the area, but visitors will be welcomed back once it is safe to do so.
Powys County Council Leader, Councillor Rosemarie Harris said: "We would like to remind everyone to continue to stick to the Welsh Government's Coronavirus Guidance, including the social distancing rules. The threat to all in the county, posed by Covid 19, has not gone away and we need to continue to protect our health and that of our families, friends and neighbours."
Current advice from the Welsh Government states: Stay at home
Only go outside for food, health reasons or work (but only if you cannot work from home)
Stay 2 metres (6ft) away from other people
Wash your hands as soon as you get home
You can spread the virus even if you don't have symptoms.
Do not leave home if you or someone you live with has either:
a high temperature
a new, continuous cough
Check the NHS Direct Wales website if you have symptoms
Extra information:
Welsh Government guidance on staying at home and away from others
Welsh Government guidance on leaving home to exercise