Household waste and recycling centres to reopen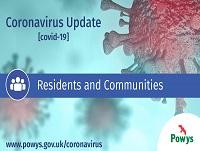 14 May 2020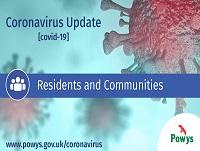 Household waste and recycling centres (HWRC) in Powys are due to reopen, with significant restrictions, from Tuesday 26 May.
In conjunction with our contractors, Potter Group, all welsh local authorities and Welsh Government, HWRCs across Powys will open for essential use only.
This essential use is for residents who have accumulated waste which cannot be collected through the normal kerbside collection service and which cannot be stored safely at home until the lockdown restrictions are eased. Non-essential use puts yourself, other members of the public and our staff at risk from spreading the virus.
"The centres will only be open whilst the health and safety of residents, staff and the local communities can be maintained, minimising the spread of coronavirus." Explains Cllr Heulwen Hulme, Cabinet Member for Waste and Recycling. "If it becomes difficult for the centres to operate safely, or without the cooperation of residents, they may be closed again.
"We would like to remind residents that trips to the HWRC must only be made sparingly and only if absolutely essential.
"Many of the rules on site have changed to reflect the precautions introduced to protect everyone during this pandemic. It is very important that residents check the website for up-to-date information and familiarise themselves with the restrictions in place at the HWRC before traveling."
The following changes and restrictions will apply to all five HWRCs (Lower Cwmtwrch, Brecon, Llandrindod Wells, Newtown and Welshpool) from Tuesday 26 May:
1. If you, or anyone in your household has coronavirus symptoms, you should follow the self-isolation guidelines you should follow government and NHS guidelines, self-Isolate and stay at home! Do not visit the HWRC. Any personal waste, such as tissues or wipes, should be double bagged and left for 72 hours before being put out for collection in our wheeled bin or purple sacks.
2. You may be asked to provide proof of your address before entering the site - please have this with you and show it to a member of staff when asked.
3. Only cars will be allowed into the HWRCs. Initially, no trade permits, or commercial vehicles or trailers permits will be allowed. This also helps to assist with managing demand, enforcing social distancing rules and controlling traffic levels. This will be continually under review and changed when appropriate.
4. A limited number of cars will be allowed onsite at any time - this will cause delays, please be prepared to queue patiently in your car. If there are too many people waiting to enter, you may be asked to return at a quieter time to avoid causing disruption to the highway and local communities.
5. Strict social distancing rules will be in place at all times. If these are breached, or you are abusive to staff, you will be asked to leave, and the police may be called.
6. Where possible, there should only be one person per vehicle. Only one person is allowed to leave the vehicle to unload - this means that you can only take things that can be carried by one person. Staff on site cannot help unload or carry items under any circumstances.
7. There will be a strict 10-minute time limit per car when on site - please segregate waste before arriving to help keep your visit short.
Please think carefully before you decide to visit the HWRC. Non-essential use puts yourself, other members of the public and our staff at risk from spreading the virus.