Powys set to exceed tough WG recycling targets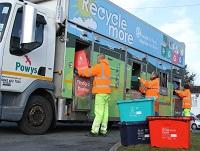 18 May 2020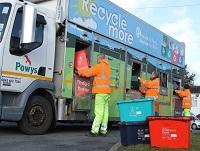 Provisional figures predict that Powys will have a recycling rate of over 64% for 2019-20, which will exceed statutory recycling targets set by Welsh Government.
These stringent targets are set out in the current Welsh Government waste strategy 'Towards Zero Waste', which charts a path to zero waste by 2050. This policy identifies the statutory recycling rates which local authorities must reach, or risk substantial fines.
"The Welsh Government target of a 64% recycling rate across the country has been challenging, but as a result of some hard work and the commitment of our residents, it has been achieved." explains Cllr Heulwen Hulme, Cabinet Member for Waste and Recycling.
"We've always known that Powys residents are good recyclers who take great pride in doing their bit for the environment, and meeting the statutory national recycling targets has confirmed this.
"This is a great milestone to have reached in our journey to a more sustainable future, but we must not rest on our laurels; we need to maintain this level of recycling while striving to increase our efforts to meet the next target in 2024-25, when we have to recycle, reuse or compost 70% of our waste."
"But with the dedication of you, our residents, we feel sure this is achievable. Even during lockdown, residents have continued to recycle much of their waste, with our weekly recycling service collecting approximately 13% more material than normal.
"We understand how difficult this current way of life is for many of our residents and we are grateful for their continuous recycling efforts and their support of our crews whilst they work hard to maintain these critical services and protect our communities at this time. Thank you."