Please don't wait until it's too late - Powys carers advised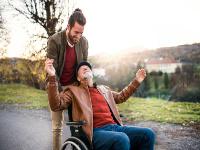 June 2, 2020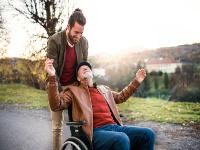 Carers in Powys, please do feel that you can get in touch for support before you reach crisis point. That's the message from Powys County Council and Credu Connecting Carers as they work to provide respite for carers in the county during lockdown.
The council and voluntary sector fear that with respite accommodation in residential homes being temporarily closed for adults due to Covid-19, that carers may feel that there is no respite care available.
Cllr. Myfanwy Alexander is Cabinet Member with responsibility for Adult Social Care in the county and she explained: "This may be a tough time for many people but it's toughest of all for unpaid carers, the remarkable people whose whole lives are devoted to meeting the needs of those they love.
"Normal systems of respite aren't available and I know that many careers are really feeling the strain. There are options available though and I would encourage all carers to reach out, either to the authority or to Credu, our wonderful partner organisation: the help is there, though it may not be in the previous form," said Cllr. Alexander.
The council has, in some cases, arranged for home care workers to visit the homes of unpaid carers so that they can provide home-based support while he/she has a break and some time to themselves.
Jen O'Hara-Jakeway is Chief Executive with Credu Connecting Carers. She commented: "I hope any young or adult carer would feel free to call us to find ways to make life better through this time and beyond.
"No one should have to wait for their situation to get really tough. Young carers and adult carers are finding all sorts of ways to make things a little bit more manageable for themselves through this pandemic. However, for many it is an extremely challenging and isolating time and everyone's situation is completely different."
The council estimates that there are over 15,000 unpaid carers - and over 1,000 young carers - in Powys and it works in partnership with Credu Connecting Carers to provide support for them.
Any unpaid carers who wish to talk about receiving respite support can contact the council's Assist team on 0345 602 7050 or Credu Connecting Carers on 01597 823800.
People over 50 in the county also have access to the Powys Befriender Service, which aims to help them maintain social contact and a way of combatting loneliness. The service can be accessed via https://www.pavo.org.uk/help-for-people/befriending.html or by calling 01597 822 191 or 01686 626 220.