Resurfacing works - Powys county roads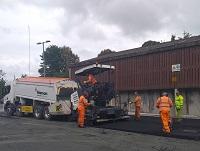 6 June 2020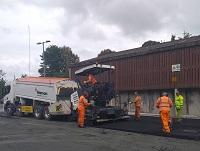 Essential work to resurface certain Powys roads will begin on Monday 8 June 2020, Powys County Council has confirmed.
The planned resurfacing work is part of the council's capital investment programme and will begin from next week with two separate crews working across the county. The attached photograph shows the process that will be carried out.
"This planned schedule of works will be carried out on nearly 40 deteriorated sites on our county road network which will be resurfaced to strengthen and improve them for years to come." Explains Cllr Heulwen Hulme, Cabinet Member for Highways.
"All highways staff have been provided with the appropriate training and equipment to keep both themselves and the public safe whilst they work to complete the resurfacing work and Welsh Government social distancing guidelines for the workplace will be followed."
Residents are asked to keep any eye out for yellow advance information signs alerting them of when works will be taking place in their area.
"We would like to thank all our staff for their continued hard work at this time and the support and patience shown by our residents, thank you." Added Cllr Hulme.