Community recycling sites - use them responsibly, or risk losing them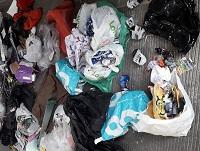 16 June 2020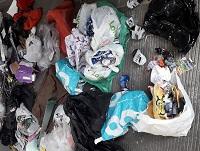 Contamination at some of the community recycling sites across the county is resulting in tonnes of recyclable material needlessly going to waste.
With regular kerbside collections back up and running and the reopening of the household waste recycling centres, there is no excuse for general rubbish, to be put into the community recycling sites. This includes food and dog mess.
"We are horrified at the types of rubbish we are finding in some of our community recycling sites" explains Cllr Heulwen Hulme, Cabinet Member for Waste and Recycling. "This type of contamination means that all the material within the banks is rejected by the recycling processors and ends up having to be sent to landfill.
"This selfish behaviour of a few irresponsible people is a huge waste of everyone else's time and effort and results in recyclable material needlessly going to waste. If the community recycling banks continue to be misused in this way, they may have to be removed."
Members of the public are urged to report any incidences of contamination that they find or witness at the community recycling sites. This, along with the CCTV we have in place at many of the sites, will help catch and reprimand offenders appropriately. Individuals found guilty of deliberately dumping rubbish in the recycling banks can expect to receive a fixed penalty notice.
Cllr Michael Williams, the County Councillor for Machynlleth said: "The contamination at the Machynlleth community recycling site has been particularly bad recently.
"Not only have we found all sorts of non-recyclable rubbish in with the recycling, but a few residents are insisting on using our card bank to get rid of dog poo!
"During a global pandemic, when resources are stretched and everyone is doing their upmost to stay safe and stop the spread of the coronavirus, anti-social acts of this kind, pose a significant health risk to our staff and other site users and is totally unacceptable - there is no excuse for it. Please use your sites responsibly."