Praise for internal home care teams and redeployed staff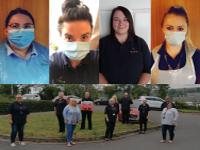 June 16, 2020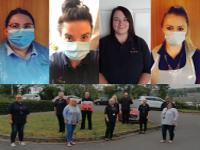 'Our unsung heroes' within the council's home care service have been praised by Powys County Council's Head of Adult Services Michael Gray for their commitment and hard work during the pandemic.
And he has also praised the work of those staff who have been redeployed into social care roles from other teams within the council.
"We've seen such a great response from our teams as they have carried on their work to support people to live independently at home. I cannot express how proud I am of these staff, " said Michael.
He added: "For those people who have been redeployed into a social care role, again I say thank you very much. There has been increased pressure on our service as some staff have had to self-isolate at times during Covid19. The redeployed staff have really helped."
And in response to the extra pressure on the service, the council is also seeking to recruit more home care workers into the team and is asking people to help spread the word.
Councillor Myfanwy Alexander is Cabinet Member with responsibility for Adult Social Care and she said: "'This has been a very challenging time for all those working in the care sector in Powys, including those staff who have been redeployed from other sectors. I am so proud to say that people have shown great qualities of hard work and resilience under extreme pressure and it is no exaggeration to say that our staff have acted heroically.
"We are looking to supplement these fantastic teams with new recruits so, if you have been inspired by recent events to want to make a contribution, you can't make it in a better way than by making a move into the care sector,' said Cllr. Alexander.
Michael added: "We urgently need extra people in Adult Services to provide care and support to adults in their own homes. The jobs are being offered as 25 hour a week positions for the next 6 months.
"The job would involve helping adults to do the things that matter to them to help them live independently. You might also be helping people stay connected with friends and family through the lockdown period. Don't worry if you haven't had experience of working in social care previously, we'd still like to hear from you. What's more important to us is that you've got an interest in working with people, are flexible with regards to shift patterns and able to commit to the role for at least 6 months.
"This role is a real chance to make a difference to our residents in Powys and we look forward to hearing from you."
The closing date for applications is June 30th. More details at https://recruitment.powys.gov.uk/