Powys high streets to safely reopen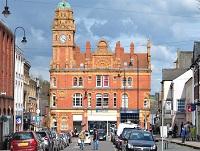 19 June 2020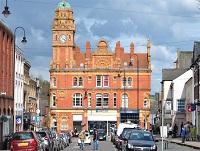 Preparations are underway to safely reopen town centres on Monday 22 June following Welsh Government's announcement that non-essential retail can resume in Wales.
Powys County Council is putting the appropriate measures in place to ensure businesses are supported to operate safely at this challenging time as many prepare to open their doors again.
Businesses are being urged to familiarise themselves with the latest guidance and take the necessary precautions ahead of Monday.
Cllr James Evans, Cabinet Member for Economy, Housing and Regulatory Services, said: "This latest announcement from Welsh Government means we can now take the next step in gradually getting Powys back open for business.
"I very much look forward to seeing more businesses trading again after a difficult few months, but we know this must be done safely and responsibly.
"We must all continue to stay local and follow social distancing rules. Our town centres and retail trade will need to operate accordingly, helping to minimise the risk of infection and protect lives.
"Everyone will need to play their part to keep our high streets safe. This is a big task and alongside partners, the council is drawing up specific plans for each town.
"As we move forward measures will be developed and monitored with our county and town councillors. A dedicated group has been set up within the council to work closely with each of the main towns and help with complex matters.
"Some of the initial temporary measures that we will put in place include cleaning carpark pay points more regularly, cordoning off sections of on-street parking, and closing a limited number of streets.
"There will be a greater need for street space but we appreciate the practicality of this will vary from town to town. The responsibility remains for us all to follow the guidance and be aware of our surroundings.
"As a council we will continue to support our local businesses whilst doing everything we can to keep people safe in our towns and communities.
"To help boost the Powys economy we have launched a new campaign to encourage people to use their high streets and 'support local'. I urge everyone to get behind local businesses so they can recover and thrive once again."
Powys County Council is here to help. Please check the latest guidance and visit the council's website for useful resources, key contacts and financial advice - www.powys.gov.uk/coronavirus/helpforbusinesses
If your business needs further support please contact our Trading Standards Team on 01597 827460 or email trading.standards@powys.gov.uk.