Knighton's Cwm Ifor dingle step repairs completed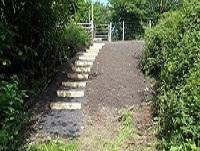 24 June 2020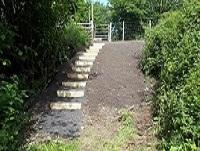 A footpath outside Knighton has been reopened after heavy rain caused the washing away of steps, Powys County Council has said.
Following the heavy rains of Storm Dennis in February, water rushing from the road carved a deep channel down a bank and washed away the steps giving access to Cwm Ifor dingle, from the B4355, just outside Knighton, causing this footpath to be closed temporarily for repairs.
The council's Highways Department have recently renovated this area of road by installing a new road gully and drainage pipe. They have also rebuilt the bank installing a brand-new flight of steps; meaning that this temporary closure has been lifted from this footpath.
Cllr Aled Davies, Deputy Leader and Cabinet Member for Countryside Services, said "It was unfortunate that this closure had to take place but it was essential to do so for public safety.
"I am delighted that the repairs have been completed and that the Cwm Ifor dingle steps are now available for public use once again.
"Locally available public paths are incredibly important and should not be underestimated. Our public rights of way network can play a vital role in maintaining the health and well-being of the people of Powys."
If you would like more information on the work the council's Countryside Services Team does in managing rights of way and public access in the county then visit https://en.powys.gov.uk/countryside or contact us via rightsofway@powys.gov.uk or 01597 827500.