Progress made on new Welshpool primary school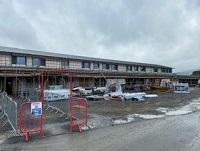 24 June 2020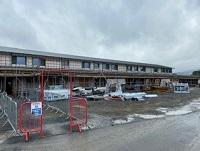 Work on a new primary school in Welshpool is progressing following a pause due to the coronavirus pandemic, Powys County Council has said.
The work on the new 360-pupil Welshpool Church in Wales Primary School was stalled temporarily due to coronavirus restrictions. However, main contractors Pave Aways has gradually re-started on site and is following Welsh Government social distancing rules.
Since Pave Aways was awarded the contract earlier this year (January), it has completed the roof and the building is now watertight. Photo voltaic panels have also been installed on the roof.
The staircases for the new school are in place while the school kitchen walls are finished with hygienic wall finishes. The internal ventilation and data cabling work is almost complete and the first coat of paint has been put on in some areas of the school.
Cllr Phyl Davies, Cabinet Member for Education and Property, said: "I'm delighted with the progress that Pave Aways has made at the new Welshpool Church in Wales Primary School.
"This has been a difficult and testing time. We've had to revise our timetable to take into account the pause in work due to the coronavirus pandemic.
"There are still uncertainties but I'm cautiously optimistic that pupils and teaching staff will be able to move into their new school early next year.
"This new school is an important part of our strategy to transform education in Powys. When complete, it will provide a learning environment that will allow learners and teaching staff to thrive and reach their potential."
The school which was originally due to open to staff and pupils in September 2020 but is now aiming to open early in the new year.
The school construction project is being funded by the Welsh Government 21st Century Schools Programme and is 50% funded by Powys County Council. The project is being delivered in partnership with Heart of Wales Property Services.
Steven Owen, Managing Director of Pave Aways, said: "We have made substantial progress despite the temporary suspension of work due to coronavirus.
"Our working policies and programmes have been adapted to ensure that work can continue to finish this important project whilst safeguarding the health and wellbeing of our team.
"It is really taking shape now and we will continue to work hard to complete the build as soon as possible."