WG Covid-19 guidance means slight delay for Welshpool application
June 25, 2020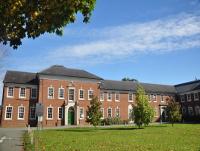 Amendments to pre-application consultation procedures introduced by Welsh Government in response to the Covid-19 crisis will mean a slight delay for a development in Welshpool.
Powys County Council is working in partnership with ClwydAlyn Housing Association to provide independent living (or extra care) accommodation at the council's Neuadd Maldwyn site on Severn Road.
A Pre-application Consultation (PAC) exercise had been completed in April, however, an amendment to the relevant legislation from Cardiff issued in response to the Covid-19 pandemic now needs the housing association to undertake a new PAC exercise.
The development aims to convert the council's buildings into independent living accommodation for individuals aged 60 years and over (with an assessed care or support need and who are a resident in, or have close connections to, the Powys area). Newtown already has this type of accommodation at Llys Glan yr Afon, a 48 apartment scheme which the council developed in conjunction with another housing association. The schemes provide an independent living option where older people can live in their own self-contained home while accessing a wide range of communal facilities and personal care support packages
Craig Sparrow, Executive Director of Development for ClwydAlyn commented: "In light of this new guidance, we have to undertake an additional PAC which will take around four weeks to complete, to make sure we consult properly with our neighbours.
"The PAC phase is now underway and we have written to local stakeholders to advise them of this process. All Welshpool people are very welcome to view the plans and let us know their thoughts by visiting https://cutt.ly/NeuaddMaldwynExtraCarePAC. If anyone requires paper copies of the plans they should contact us via admin@lovelockmitchell.com"
The PAC phase closes on July 3rd.
Councillor Myfanwy Alexander is Cabinet Member with responsibility for Adult Social Care with the council and she commented:
"In this very challenging time, it's still vital that we give local residents an opportunity to comment on our plans, which is why ClwydAlyn is undertaking an extra consultation. I would encourage all interested parties to respond and your views will help us shape this exciting project."
The PAC process is designed to gather information and feedback prior to the submission of a formal Planning Application to the council.
Videos giving an online glimpse of this type of independent living accommodation are available in a ClwydAlyn video at https://www.youtube.com/watch?v=sRg-AGQ8is8 (English version) or https://youtu.be/ur0pGixt9Mw (Welsh version).