Essential repairs completed for Elan Valley bridleway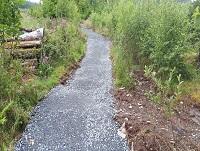 23 June 2020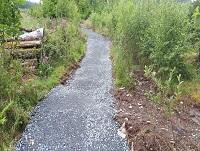 A bridleway in the Elan Valley has been repaired after heavy damage from Storm Dennis, Powys County Council have said.
Following February's heavy rain from Storm Dennis, a large amount of water scour to the bridleway adjacent to Nantgwyllt Church, in the Elan Valley, left the surface with deep gullies along a steep 280m section, causing the bridleway to need essential repairs.
The council's Countryside Services have been working closely with The Elan Valley, Dwr Cymru Welsh Water staff and local contractor Mervyn Price Plant Hire to carry out essential repairs to this site.
Drainage channels were reinstated along the length of the path, and stone from the local quarry was used to aid the restoration of the bridleway's surface. With the recent heavy rain being diverted off into the reinstated drainage channels, this resulted in a good surface for all bridleway users to enjoy.
Deputy Leader and Cabinet Member for Countryside Services, Cllr Aled Davies, said "The restoration of public areas is something we, as a council, must do to keep it available and safe for public use.
"It's awful to see the damage Storm Dennis has caused this bridleway, along with the other areas within the county, but I am amazed with the fantastic work the team is doing to get these site back open and available.
"Powys has such a beautiful and thriving countryside and it would be such a shame for our residents to not have access to it.
If you would like more information on the work the council's Countryside Services Team does in managing rights of way and public access in the county then visit https://en.powys.gov.uk/countryside or contact us via rightsofway@powys.gov.uk or 01597 827500.