Council Occupational Therapists respond to pandemic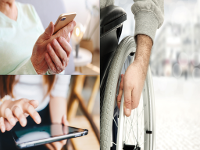 June 30, 2020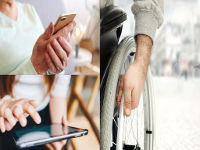 Modern technology is being used by Powys County Council's occupational therapists as they look to operate safely during the Covid-19 pandemic.
Video consultations - using smartphones, laptops or tablets - are taking place with clients and even the use of Google Street View is helping staff and residents keep safe.
Verena Zimmer is lead occupational therapist for the south of the county. She explained: "Prior to Covid-19, all consultations with our clients were done face-to-face but we've had to adapt our way of working to keep everyone safe."
"Although a very small number of in-person consultations do take place - with my colleagues wearing appropriate PPE and socially distancing - we've found that we've been able to carry out a lot of work via cameras on phones and webcams."
She explained that one resourceful colleague was finding it difficult to establish the layout of the outside of a lady's home who was in need of a wheelchair ramp to her door. So she turned to Google Street View. "My colleague couldn't quite visualize the layout of the garden and paths so she had the brilliant idea of looking at the outside of her house on Google Street View and was able to establish how the ramp could be fitted," said Ms Zimmer.
Another way in which the team has responded to the pandemic has been to build on their existing work to help Powys residents with movement difficulties. This sometimes mean that, through the use of different techniques, new equipment, and care staff training, a single carer can help the person move (for example out of bed), where previously it would have taken two. This means freeing up more care staff at a time when it was anticipated that there would be higher numbers of care staff unable to work due to sickness or the need to self-isolate.
"We use the phrase Moving with Dignity to reflect the manner in which we aim to help our service users. Even though we may be using technology, our aim is always to ensure that the individual is able to maintain her or his dignity as far as possible."
She cites the example of a lady - who receives Direct Payments - who had experienced a fall which had led to a lack of confidence in her movement. The Moving with Dignity Occupational Therapist took up her case and was able to discuss the use of a Minilift standing hoist. This allowed her to move out of bed with the assistance of a single Personal Assistant (funded by her DPs), rather than the previous two.
Another example was a 97 year old gentleman who, again, had mobility issues. A multi-disciplinary review - initiated by the Moving with Dignity Occupational Therapist - agreed that the gent could be safely supported by one carer, using a Quickmove sit and stand transfer aide and an in-bed repositioning system.
Advice was also given to him to reduce the risk of slips, trips and falls, and how to manage in the event of a fall. The member of staff also provided a telecare phone so that it could be used to raise help in case of emergency as well as liaising with a builder/plumber who were working on a shower room conversion for the family.
Councillor Myfanwy Alexander is Cabinet Member for Adult Social Care with the council. She commented: "'Our Occupational Therapists are renowned for their ability to provide practical solutions to problems and they have demonstrated this strength in many innovative ways in this challenging time.'
Powys residents who would are looking for support to remain independent in their own homes can call ASSIST on 0345 602 7050 or visit https://en.powys.gov.uk/article/7708/ASSIST