COVID-19 impact report discussed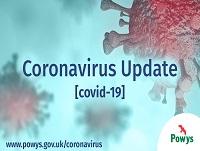 3 July 2020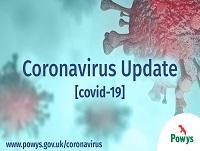 The impact of Coronavirus on Powys has been discussed by the county council's Cabinet, it has been confirmed.
A comprehensive report on the initial impact of the pandemic on the county's residents, communities, economy and the county council has been presented to the Cabinet and will now be shared with partners.
Council Leader Councillor Rosemarie Harris said: "We know the COVID-19 outbreak has had a devastating impact on every aspect of the county's social and economic well-being. The report examines the impact in detail covering key areas of operation and will be crucial in our recovery planning.
"The information collected during the first three months of the pandemic makes bleak reading. Residents, businesses, communities and the county council have been severely affected and the repercussions for everyone will be felt for many years to come.
"The report 'Understanding the Impact of COVID-19 in Powys' identifies key areas of operation, the impact felt so far and the county council's response. The insight gained as part of the impact review will be important in planning our recovery and will be crucial in lobbying Welsh Government for their continued financial support."
The impact assessment will be sent to all councillors, Welsh Government, WLGA, the Public Service Board and Wales Audit Office for information on Monday (July 6).
Key Findings
Business Support £46.6m paid out to 4,020 businesses (as of June 11 - the second highest in Wales)
Employment 23% per cent of county workforce furloughed (13,100)
Unemployment increased 156% = 2,225
Food and accommodation services GDP by 92%
Nearly 400 volunteers recruited
More than 5,000 vulnerable residents contacted
16 childcare hubs established with more than 300 pupils attending
881 IT devices distributed to help pupils access learning
14% (290) extra pupils access free school meals
600 homeless presentations made - 300% during busiest period
Council projecting £16m deficit as result of Coronavirus
201 council staff furloughed
Most staff members home working
1,100% increase in network use
634% increase in online meeting use
18% decrease in emails
162K reduction in council business miles in May