Plan ahead and visit Powys safely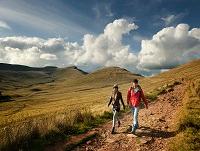 9 July 2020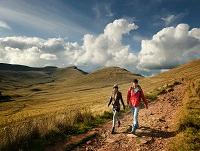 With travel restrictions lifted in Wales and outdoor attractions reopening, Powys County Council is asking people to carefully plan ahead and visit Powys safely.
Visitors are being urged to follow the latest Welsh Government guidance and maintain social distancing as they explore Powys' tourism hotspots.
As of 6 July, there are no more travel restrictions and many outdoor tourism attractions have also reopened.
From 11 July, self-contained tourism accommodation businesses can reopen for visitors to stay overnight. Some hospitality business, such as restaurants, bars, and cafes with outdoor seating areas are expected to reopen from 13 July.
Cllr James Evans, Cabinet Member for Economy, Housing and Regulatory Services, said: "It's great to welcome visitors to Powys once again as the county begins to reopen. The tourism industry is very important to the Powys economy, contributing over £1billion in 2019.
"Powys is a popular tourist destination with its scenic views, green spaces and beauty spots, and as restrictions ease, we can expect to see people returning to enjoy what the county is renowned for.
"That said, Covid-19 remains a real threat and we must keep Powys as safe as possible. We are encouraging all visitors to plan their visit in advance as not all facilities are open, so please check before you travel. Please respect others, protect the natural environment and enjoy the outdoors.
"The two-metre rule still applies in Wales, so keep your distance and show consideration to others when you are out and about. Look out for local signage and if somewhere looks too crowded, just don't risk it.
"We of course want people to enjoy the countryside, but it must be treated with respect and that means disposing of rubbish properly and following the countryside code. Powys is a beautiful county and we want to ensure it stays that way.
"I want to take this opportunity to thank our businesses, tourism associations, and key partners such as Brecon Beacons National Park for all their efforts introducing new safety measures to protect the public at this time.
"People have shown just how resilient and innovative they can be in recent months and step by step, Powys is reopening for business."