Virtual construction careers event help for high school pupils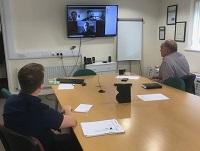 9 July 2020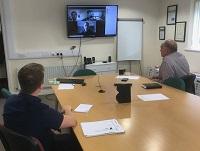 Pupils from a north Powys high school have taken part in a virtual careers event, learning about working in the construction industry.
Welshpool High School pupils in years 10, 11, 12 and 13 took part in the careers event organised by Pave Aways last month (23 June).
The Knockin-based company organised the event as one of the community benefits projects they are delivering while completing the new Welshpool Church in Wales Primary School on behalf of Powys County Council.
The new build is being built as part of the 21st Century Schools Programme which is jointly funded by the council and Welsh Government.
As part of the day-long virtual event, pupils found out about the variety of roles available in the industry as well as the qualifications and training they need.
The pupils also learnt about the apprenticeships, work experience and mentoring opportunities available at Pave Aways. Pupils also took part in mock interviews with Pave Aways staff and also received CV writing tips and advice.
Cllr Phyl Davies, Cabinet Member for Education and Property, said: "Learning and skills is a cornerstone of our Vision 2025 and our aim is to ensure our learners are provide with good careers advice as well as work with in partnership with schools, colleges, universities and businesses to improve career opportunities.
"I'm grateful that Pave Aways arranged this careers event and I hope that pupils found it beneficial.
Managing Director Steven Owen said: "Inspiring the next generation of young people into the industry is a key pillar of our work and attending careers events is something we do on a regular basis.
"In the current circumstances hosting an online event was the best way to offer the Welshpool students access to our team and to learn from their first-hand experience. This was very much a pilot project but something we hope to repeat in the future."