Powys restaurants urged to register for new discount scheme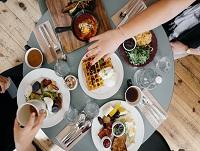 14 July 2020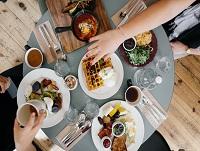 Powys restaurants are being urged to sign up to the UK Government's 'Eat Out to Help Out' discount scheme.
The new scheme was announced by Chancellor Rishi Sunak as part of a series of measures to bolster the economy during Covid-19.
'Eat Out to Help Out' will offer a 50% discount for up to a maximum of £10 per person from Monday to Wednesday throughout the month of August, with discounts being claimed back from the government.
Registration opens on 13 July and the discounts can be offered from 3 August onwards.
Cllr James Evans, Cabinet Member for Economy and Regulatory Services, said: "We welcome this news - the discount scheme will help more of our local businesses as they recover from the economic effects of the virus.
"I encourage restaurant premises across Powys to open their doors on Mondays, Tuesdays and Wednesdays throughout August so they can benefit from this scheme.
"We appreciate not all restaurants tend to open at the beginning of the week as it's usually quieter, but this an unmissable opportunity to boost business.
"Registered businesses will soon be able to download ready-made materials to help promote the scheme and let customers know that they're taking part.
"We're also urging Powys residents to use these discounts and eat out from Mondays - Wednesdays. Not only are you saving yourself money, but you are helping the county's hospitality sector get back on its feet.
"We know many people are cautious about going out, but restrictions are being lifted in a careful manner and business are going to great lengths to put the correct safety measures in place.
"The council has a #SupportLocalPowys campaign up and running which is asking people to spend money locally, where they can. This timely scheme offers a cheap and easy way to do that.
"There is no limit to the number of times you can use the offer during the period of the scheme, so please take advantage of it and dine out during the week."
Businesses will be able to submit claims for reimbursements on a weekly basis from 7 August and HMRC will pay eligible claims within 5 working days.
Registration will close on 31 August. Sign up! - https://www.gov.uk/guidance/register-your-establishment-for-the-eat-out-to-help-out-scheme