Silly Squad summer reading challenge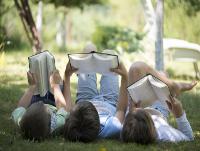 20 July 2020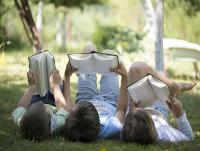 Children in Powys are encouraged to keep up their reading over the summer holidays, by joining the Silly Squad summer reading challenge! The challenge, which started on Friday 17 July runs until Saturday 12 September.
Normally run entirely through libraries, there are two ways to get involved this year:
Sign up online at www.sillysquad.org.uk and choose how many books you are going to read. These can be your own books at home, or e-books from the library's Borrowbox site.
Join in and order some books from the library - simply go to www.powys.gov.uk/orderandcollectbooks or phone 01597 827460 to order a "Silly Squad" book bag containing six library books to read over the holidays. Book bags can be collected from Order & Collect libraries across Powys, and there are also community drop off points in other areas.
Cllr Rachel Powell, Portfolio holder for Young People, Culture and Leisure, said: "Reading to your child, significantly helps their development and enhances social skills. From a baby, as they hear and see you speak, they will, from a very young age, attempt to mirror the facial expressions and sounds that they hear, including learning social skills in taking turns in conversation. Reading together and discussing books either by its content or through pictures, will further enhance their developmental which is often life-long in benefits.
"There are lots of e-audio books to listen to as well, which all helps to develop vocabulary and good communication skills. The summer reading challenge will be a bit different this year, with our libraries not open for browsing and story times, but there are two ways to get involved safely and enjoy some great reads over the holidays."
Powys Library Service will be encouraging families to read together for fun over the Summer holidays. They will be holding digital events on our Children's Facebook page throughout the holidays - www.facebook.com/buddingreaders
For more information, visit https://en.powys.gov.uk/summerreadingchallenge or contact the library service on library@powys.gov.uk or 01597 827460.