New pay and display ticket machines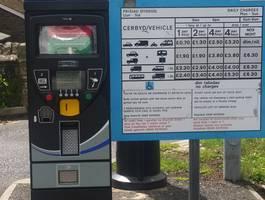 Work to install new ticket machines in all council-owned pay and display car parks has been completed, Powys County Council has announced.
The 55 new pay and display machines replace out-dated machines, that were in a poor condition and not able to take the new £1 coin. The first machines were installed in Back Lane car park in Newtown at the beginning of July and the final one installed in Brecon this week.
All new machines accept the new £1 coins and the old £1 coins, which go out of circulation in October.
Cllr Liam Fitzpatrick, Cabinet Member for Highways, said: "Work to install the new ticket machines in our pay and display car parks has gone very smoothly and I thank staff for their efforts.
"The new machines will accept the old £1 coin until they lose their legal tender status in October. The machines will update so that they don't accept the old £1 coins after October 15. There is some signage work to be completed which will be done shortly but I am delighted that the new machines are up and running."