Repairs to be carried out on Llangynidr Bridge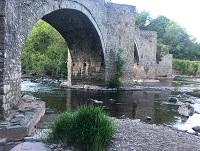 28 July 2020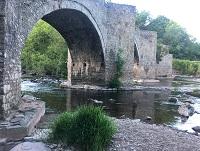 Permanent repairs are to be carried out on a south Powys bridge next week, the county council has said.
Powys County Council will oversee repair works to Llangynidr Bridge, which was damaged by flooding earlier this year. The work will be carried out by Kaymac Marine & Civil Engineering Ltd.
Work will start on Monday, August 3 and are due completion on Friday, August 14. The bridge will be open to vehicles during the work with traffic management arrangements in place.
However, a night-time closure will be in place in the evenings of 3 and 13 August to allow the contractor to safely erect and dismantle scaffolding, which will be in place for the duration of the works. A local diversion will be in place for the night-time closures.
The work will see lime mortar stonework repaired to the cracked areas as well as rebuilding a section of the bridge that was lost during the flooding.
Cllr Heulwen Hulme, Cabinet Member for Highways, said: "These permanent repair works will help protect and preserve Llangynidr Bridge.
"The bridge will be open to traffic while the repairs are being carried out but the two night-time closures are vital to ensure the safety of the contractors but also minimise disruption to those who use the bridge."