People with cancer in Powys invited to share their experiences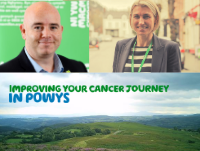 28 July 2020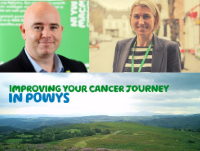 Improving the Cancer Journey in Powys (ICJ Powys) is a three-way partnership between Macmillan Cancer Support, Powys County Council and Powys Teaching Health Board.
ICJ Powys wants to ensure that every adult in the county who is diagnosed with cancer is able to have a conversation with a trained professional about their needs and how best these can be met. This needs assessment will cover not just medical needs, but will, for the first time, look at wider concerns people face such as housing, finance and work and bring them all together in one place. This personalised approach will be developed by listening to the experiences of people living with cancer alongside charities and health and social care professionals.
Members of the network will play a key role in the programme by sharing their insights about what works well and what could be improved so as to help shape future services.
Cerys Humphreys, the Improving the Cancer Journey Programme Lead, said: "We want everyone in Powys who is living with cancer, to live life as fully as they can, and by providing practical, physical, emotional, spiritual and social support, so people can achieve what matters most to them.
"Listening to people's stories, experiences and insights about their cancer journey is a fundamental part of the ICJ Powys programme. Recruiting members to Macmillan's existing network will help ensure that their views are given influence and will result in a 'fit for purpose' way that health services in Powys are delivered.
"People joining the network will be able to get involved in the programme in a number of ways, and at times that suit them including attending the official launch which we are planning to hold in early Autumn."
Speaking about the ICJ Powys programme, Richard Pugh, Head of Partnerships for Macmillan in Wales, said: "This programme aims to get to the very real issues and worries that people in Powys with a diagnosis face so we can work out the very best way to support them.
"Often a diagnosis of cancer creates a number of worries - not just worries about how their treatment will affect their health and well-being, but also practical things like returning to work, paying bills and living with the long-term effects. This is particularly the case now we are also all coping with the impact of Covid-19 which is affecting every area of our lives.
"By understanding people's cancer experience and outcomes we can develop solutions to support individual need and to ultimately understand what will enable people living with cancer to take back control.
"Advances in treatment have meant that the cancer story is changing and by 2030, it is estimated that around four million people in the UK, will be living with, and beyond cancer. With that in mind, we'd like to work hard to ensure that whatever cancer throws our way, people are able to enjoy their lives to the full and access the support they need and want when the need and want it."
If you would like to find out more about sharing your experiences and becoming a member of the network, please contact Fiona Evans, Macmillan Engagement Lead for North Wales and Powys on FEvans@macmillan.org.uk or 07801 307078.
Ends
For further information, please contact Sue Ling, ICJ Macmillan Communications and Engagement Officer on 01597 826043 or email sue.ling@powys.gov.uk.
Notes to Editors:
1. The ICJ in Powys programme is a three-year, three-way partnership which will see the health board, the council and the charity working together with adults with a diagnosis, charities and third sector groups to co-produce a comprehensive model of care.
2. Credu, the Bracken Trust, Age Cymru and PAVO's community connectors are engaging people living with cancer through their networks and will be supporting the programme.
3. Comprehensive information and support, including Macmillan's latest guidance and advice on the impact of coronavirus on cancer care, is available on www.macmillan.org.uk and our online community continues to provide invaluable emotional and peer support.
4. The Macmillan Support Line is open seven days a week between 8am-8pm on 0808 808 00 00 or visit macmillan.org.uk.