Flash Flooding hits Ystradgynlais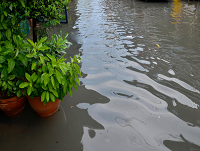 19 August 2020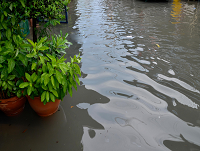 Powys council staff and residents have been praised for their response to flooding and damage caused by torrential rain in Ystradgynlais.
Storm water and tonnes of debris swept through communities in the town on Monday night, with Abercrave and Lower Cwmtwrch badly affected, after thunderstorms brought torrential rain to the area.
Cabinet Member for Emergency Planning, Councillor James Evans, after visiting the site, praised staff for the hard work they had done. They had battled to protect properties and spearheaded clean-up operations, working with local residents, contractors and emergency services.
"Powys staff were on site quickly to help tackle the trail of damage left by flash flooding and the thousands of tonnes of debris swept off the hillside. Staff, including highways, social care and housing, worked alongside emergency services helping residents and doing all they could to minimise damage.
"Once again the response from our staff was outstanding. We even had one member of staff whose own property was hit by flood water last night but was at work as normal this morning to help with the work.
"We are focussing on the clean-up operation but it will take time, thousands of tonnes of material has been deposited on roads and paths. We have re-housed residents and will be providing equipment to help dry out properties. It is likely the work will go into next week.
"The community response to the flooding has been tremendous, we thank residents, local farmers and contractors for their efforts and resilience," he added.
Powys residents affected by flooding may be able to get help through Council Tax and Business Rate schemes and Welsh Government support via the Discretionary Assistance Fund.
If you require financial assistance please ring 01597 827262.