Emergency work planned to repair flood damage to the B4355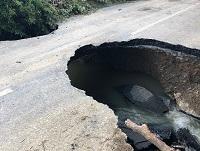 20 August 2020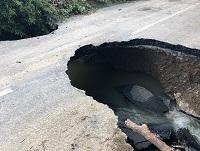 Emergency work to repair damage caused by flash flooding to multiple structures on the B4355 between Dutlas and Lloyney will begin shortly.
By quickly engaging a contractor, the council have assessed the damage caused and are currently preparing for emergency repairs and working on interim plans to reopen the road as soon as possible.
"A pattern of unprecedented weather conditions and debris blocking culverts, has resulted in the damage and subsequent collapse of a number of structures on the road between the villages of Dutlas and Lloyney." Explains Cllr Heulwen Hulme, cabinet member of Highways.
"The councils engineers have inspected the damage, and along with the contractors, are currently implementing a plan to carry out emergency repairs in efforts to get the road reopened before the start of the school term in early September.
"Further road closures may be necessary in the Autumn to carry out a programme of permanent repairs. Care will be taken to keep disruption to a minimum.
"We would like to thank our residents for their understanding and cooperation, and apologies for any inconvenience that these road closures cause."
Details of the permanent repairs will be made available in due course. Residents are reminded to not ignore road closure notices and safety signs, to plan their journeys in advance and to follow the signposted diversions.