Think twice before visiting Powys hotspots this bank holiday weekend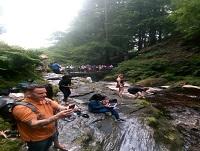 28 August 2020
Many popular tourist destinations across Powys are struggling to cope with extremely high numbers of visitors and vehicles.
Powys County Council and Dyfed Powys Police are advising people to carefully consider visiting certain areas over the bank holiday weekend and instead opt for quieter alternatives within the county.
Busy areas causing concern include Pistyll Rhaedr, the Elan Valley, and Waterfall Country and Pen y Fan within the Brecon Beacons. Social distancing is proving particularly difficult in these locations as people continue to visit in their droves.
Cllr James Evans, Cabinet Member for Economy, Housing and Regulatory Services, said: "With the bank holiday weekend approaching we must all take extra care. Coronavirus is still very much around and social distancing measures remain in place.
"As wonderful as these places are, overcrowding them at this time is particularly dangerous and poses obvious health risks. If you are set on visiting these locations make sure you practise social distancing.
"Pistyll Rhaeadr in the north of the county has seen huge numbers of visitors flocking there in recent weeks. The area and its surrounding villages are overwhelmed and do not have enough capacity.
"We have received reports of long queues and people struggling to see the magnificent waterfall in its fullness due to overcrowding.
"One of the great things about Powys is that it covers a landmass of 2,000 square miles, so now would be the best opportunity to look beyond the congested hot spots and visit some of our quieter hidden gems.
"Tourism is very important to Powys, but our first priority must be to protect lives. Remember the sights will always be here so come back and enjoy them at safer time!"
Cllr Heulwen Hulme, Cabinet Member for Environment, added: "Many of our tourist attractions have narrow access points and the traffic build-up is obstructing emergency services as well as farm vehicles.
"We have been working closely with partner agencies and local communities to find solutions to some of these challenges and a clearway order is now in place at Pistyll Rhaeadr.
"Our Highways Team has erected clearway signs and distance plates and any offending vehicles that are parked along the highway are at risk of fixed penalty notices and ultimately being towed away.
"It is essential that designated car parks are used responsibly and where parking is too difficult, please try somewhere else. We do not want people's experience of Powys to be spending hours in queues and little time experiencing our great outdoors."
Dyfed Powys Police Chief Inspector, Andy Pitt, echoed the above stating:
"We appreciate what a difficult year it has been and know that people are keen to get out and about after lockdown with Powys having much to offer. But we would ask visitors to consider that many areas cannot accommodate such large numbers, in terms of traffic and for effective social distancing as we continue to make every effort to prevent further spread of the coronavirus."
ENDS