Mobile coronavirus testing centre coming to Welshpool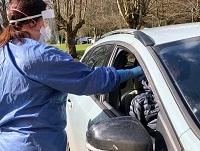 3 September 2020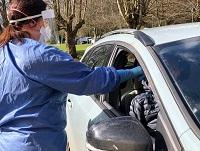 A mobile coronavirus testing centre will be coming to Welshpool for three days after a small number of positive cases were confirmed in the area.
The testing centre will be based at Neuadd Maldwyn on Friday 4 and Saturday 5 September from 8am to 6pm and on Sunday 6 September from 10am to 1pm. No booking is needed.
Residents from Welshpool and the surrounding area are being urged to come forward for testing if they think they have symptoms.
Stuart Bourne, Powys Teaching Health Board's Director of Public Health, said: "We are providing this easy-access testing centre to help us understand the situation in Welshpool, where there has been a small number of cases confirmed in the Welshpool area.
"If you think you have symptoms - even very mild ones or you're not sure - please visit the centre and get tested."
Cllr James Evans, Powys County Council's Cabinet Member for Economic Development, Housing and Regulatory Services, said: "Coronavirus hasn't gone away, and we all still have a vital role to play by sticking to social distancing, washing our hands regularly, and avoiding carsharing with people from other households.
"Please come forward for testing, even if your symptoms are mild. The more people with symptoms who come forward, the more cases we will find. More people can then be referred into the Test, Trace, Protect programme, allowing contact tracers to take action to put a stop to the spread of Coronavirus in the area."
The centre is being co-ordinated by Powys Teaching Health Board, Powys County Council, Public Health Wales and the Welsh Ambulance Service.