Applications for £500 Care Worker payment are now open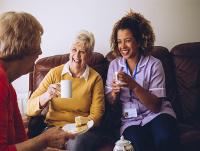 7 September 2020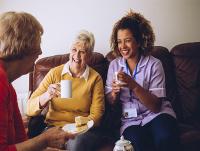 The Welsh Government introduced a scheme on 1 May 2020, which recognises and rewards social care workers for their hard work and commitment during the COVID-19 pandemic.
Powys County Council (PCC) are proud to be administering one-off payments of £500 on behalf of Welsh Government and will be writing to all employers and direct payment recipients of all eligible care staff across the county.
The scheme is aimed at staff within registered care homes and domiciliary care services and includes Personal Assistants (PAs). An individual can only receive one payment and must have been employed in an eligible role between 15 March and 31 May. This may include any staff who have since left eligible roles.
The deadline for all claims is 18 September 2020 and payments will be made by the end of October 2020. Staff can choose to spread their payments over five months if preferred, with the last payment completed by March 2021.
Councillor Myfanwy Alexander is the council's Cabinet member with responsibility for Adult Social Care. She commented: "This is a very welcome token of appreciation for our carers who have shown their excellent qualities over the recent challenging period. We are proud of them and the sterling work they have undertaken. As the saying goes 'when the going gets tough, the tough get going' and our carers thoroughly deserve this recognition for their resilience and positivity."
Councillor Rachel Powell, Cabinet Member for Young People, Leisure and Culture, said: "We acknowledge the vital contribution of all care workers in Powys and this financial gesture is welcomed although, should not distract from the true value of this vocation."
Employers are responsible for identifying and communicating with their staff about how to claim from the scheme, including distribution of the claim forms to employees and submitting finalised claims to the Council. If you think you are eligible for payment, please speak to your employer.
Letters and claim forms will also be sent to all care workers directly employed by the Council and payment will be made into their monthly pay by the payroll department.
If you are a social care provider or personal assistant and have not received any information about the scheme, please email CareandWellbeing.Corp.Finance@powys.gov.uk
HMRC have confirmed that the payment will be regarded as earnings and will be liable for tax, national insurance contributions and student loan repayments where appropriate. The payment will also be included in benefits calculations. If you require advice about how this payment could affect your benefits, please contact Citizens Advice Powys on 0345 601 8421 for support.
Full guidance and claim forms can be found on the Powys County Council website.