Repairs on Bleddfa byway completed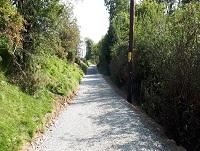 17 September 2020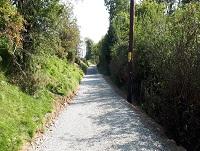 A byway in mid Powys has been repaired after badger activity left significant damage, Powys County Council has said.
The surface of the BOAT BD1047 at Bleddfa had become severely damaged, with a number of large and deep holes forming in the surface, making the route dangerous for all path users. Following this, the council made the decision last year to close the byway for repairs, but due to bad weather and restrictions on the works licence, repairs have only just been completed.
The holes in the byway were caused by a large active badger sett found in the bank below. As the sett expanded, some of the tunnels and chambers got closer to the surface, so when vehicles used the route, it caused a number of areas to collapse. This posed a significant hazard to all path users, as many of these holes became obscured by long grass.
Working closely with local contractor Mervyn Price Limited, the council's Countryside Access and Recreation Team carried out repairs to the surface, under licence from Welsh Government, whilst ensuring the safety of the badger sett below.
In order to ensure that the repair is long lasting and will allow all path users and the badgers to coexist, a large section of track has been reinforced with mesh, to prevent future collapses of the surface.
The repairs resulted in a good stone track which will restore a multi-user route between Bleddfa and Fishpools, avoiding a section of the busy A488.
Cllr Aled Davies, Deputy Leader and Cabinet Member for Countryside Services, said "It was unfortunate that this closure had to take place, but it was essential to do so for safety reasons.
"I am delighted that the repairs have now been completed and that the Bleddfa byway is available for public use once again."