Thank you for recycling!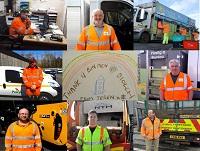 23 September 2020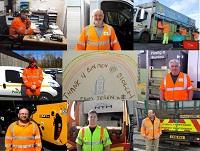 During national recycle week, we thought it pertinent to say a big 'thank you' to our busy frontline crews who work tirelessly to help us all be mighty recyclers.
"Whether they are collecting our recycling, sweeping the streets, picking up litter, emptying bins or driving the vehicles, they all contribute to our county's impressive recycling rate of 64%." Explains Cllr Heulwen Hulme, cabinet member for waste and recycling.
"But it isn't just our frontline staff which need a pat on the back. It takes a team effort to increase our recycling rate by 27.5% in just 10 years. Without the dedication from the mechanics, fleet workers, safety assessor's, finance teams, office staff, etc, etc, all still working just as hard behind the scenes (even from home!), we wouldn't see such a great result.
"And, of course, we can't forget Powys residents who also deserve the biggest thank you for diligently recycling, even throughout this challenging time. With more of us at home, we have been recycling more than ever; putting out our bins on time, separating all our food waste and recycling, queuing patiently at our household waste recycling centres. We couldn't do it without you, and we really do appreciate the support, thank you!"
Although second nature for many of us, it is always good to look for ways to continue recycling more than ever. Wales is currently third best country for recycling in the world, but with a team effort, we would like to get to number one! To learn more, please visit www.walesrecycles.org.uk