Councillors and staff join forces for an Autumn 'Spring' Clean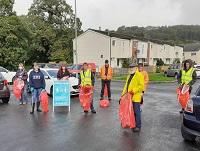 24 September 2020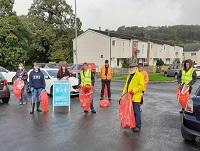 Taking part in the Keep Wales Tidy Autumn Clean Cymru campaign, our willing volunteers spent a productive couple of hours safely litter picking in Trehafren, Newtown.
Coinciding with national recycle week, all the litter collected will now be sorted back at the depot and sent off to be recycled, where possible.
"It's a shame that there is a need for litter picking, people really should be taking more responsibility for their own rubbish and not littering the streets, pathways, parks and verges." Says Cllr Heulwen Hulme, Cabinet Member for Recycling and Waste.
"But our faith in humanity, and the residents of Powys, is restored when individuals come together like this to spend a couple of hours - socially distantly, of course - to help communities and make their neighbourhoods look clean and tidy once more.
"I'd like to thank all the volunteers who take pride in their environment and have helped, not only with this week's Autumn Clean Cymru, but throughout the year organising litter picks across the county."