Fron level crossing footpath reopened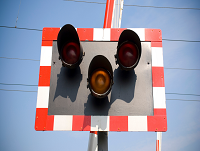 01 October 2020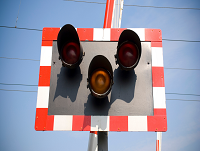 A footpath in north Powys has recently reopened following four years of work to improve safety at a nearby level crossing.
Following the issuing of a safety notice in 2016 by the rail regulator the Office of Rail and Road, the Fron level crossing in Forden was temporarily closed to the public to allow the area to be improved.
The safety notice was issued due to trains having to stop on the level crossing itself to give way to trains coming in the opposite direction. This led to incidents when the public were trying to cross the lines in front of a train.
Over the past four years, the council have been working closely with Network Rail to ensure the safety of this level crossing gets improved. Works have now been completed meaning the closure has been lifted from this footpath and crossing and they are now available for public use.
Engineers for Network Rail have relocated signalling equipment on the line so that trains no longer stop on the level crossing itself, making the footpath safer and more accessible for the public. The changes made will improve performance of train times, reduce delays and improve safety of the crossing.
Cllr Aled Davies, Deputy Leader and Cabinet Member for Countryside Services, said "I am delighted that these improvements have now been completed and thank you to Network Rail for providing such a great service.
"The footpath and level crossing are now available for public use once again, and walkers are free to use the area safely."
Phil Cuddihy, Project Manager at Network Rail, commented: "We know that this footpath is very popular with local residents and visitors to the area, so we're delighted we've been able to support its reopening.
"I'd like to thank Powys County Council, and the local community, for bearing with us while we worked to make the level crossing safer."
Powys County Council and Network Rail would like to remind crossing users to remain alert when using the crossing, remembering to 'stop, look and listen' for approaching trains and to keep any dogs on leads.