Partnership disappointed by town council comments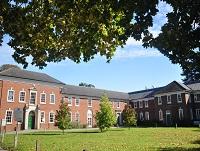 02 October 2020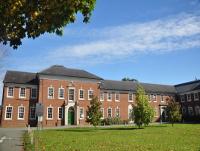 Housing association and social services chiefs have expressed their disappointment at comments made in the media by Welshpool Town Council regarding a proposed planning application for accommodation for elderly people in the town.
Powys County Council and ClwydAlyn are working in partnership to provide Extra-Care accommodation for local elderly people in the former council offices at Neuadd Maldwyn. A planning application has been submitted to provide 66 one and two bedroom apartments within the existing building (and an extension at the rear of the building).
The accommodation follows the successful Extra-Care development in Newtown (provided by Wales and West Housing Association) at Llys Glan yr Afon and would see a significant investment in Welshpool with the provision of at least 20 jobs.
Councillor Myfanwy Alexander is Cabinet Member with responsibility for Adult Social Care commented: "Though I fully respect the difficulty for any community to embrace change, Powys County Council's Social Care team is committed to this project because it meets the needs of local older people."
Cllr. Alexander added: "I frequently hear from families supporting older relatives who are anxious about the future and express the wish that there was a way to preserve Mum or Dad's independence as long as possible whilst ensuring their safety as they grow more frail. Subject to planning permission, this is what will be provided here for the community of Welshpool and I would encourage everyone to learn more about these plans which warrant widespread support."
Dylan Owen is head of Commissioning (Children and Adults) with the council. He added: "Extra Care provision in other parts of Wales is proving a successful model for enabling support for residents while also giving them the independence and privacy of their own 'front door'. Residents in Newtown are already enjoying the benefits of this style of provision.'"
"We have identified the increasing demand for accommodation for elderly people in the area and shared this research with the town council so it was a little disappointing to hear their comments on that point. This is a carefully thought through development which, if approved, will really benefit older Welshpool area people if and when they need support."
Edward Hughes, Director of Care and Support from ClwydAlyn commented: "We have carried out two rounds of engagement with stakeholders (including the town council), one prior to submitting the planning application. We had to do this slightly differently because of the Covid‐19 pandemic but all relevant stakeholders were able to have their say on the plans. As a result, a number of alterations to the plans were made after discussions with the town council.
"Whilst the focus of this project is on older persons accommodation, ClwydAlyn is committed to the town of Welshpool, where we already provide 215 family homes, and have recently provided support for the development of a 3G sports pitch that would service the wider community including younger people."
If the development is given the planning go-ahead, the 66 extra care apartments are likely to free up many homes for families in the area as these older people move into Neuadd Maldwyn for support.
You can see a ClwydAlyn video showing people's experiences of Extra-Care in other parts of Wales at https://www.youtube.com/watch?v=lGvqWJ4f0GY. You can also read more about the project at https://www.clwydalyn.co.uk/neuadd-maldwyn/