Emergency work to repair the flood damaged B4355 is progressing well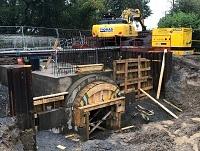 7 October 2020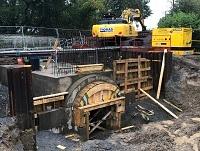 Emergency work to repair damage caused by flash flooding to multiple structures on the B4355 between Dutlas and Lloyney is progressing well.
A pattern of unprecedented weather conditions and debris blocking culverts, resulted in the damage and subsequent collapse of a number of structures on the road back in August. Emergency works were carried out almost immediately to get the road reopened before the start of the school term, with more permanent repairs currently taking place.
"Works to repair Pennant Pound, one of the badly damaged culverts, is currently ongoing, despite the recent wet weather." Explains Cllr Heulwen Hulme, Cabinet Member of Highways. "The new concrete structure is now in place and the road is due to be surfaced later this week. All being well, the road will reopen on Monday 12 October with two-way traffic lights in place whilst the final reinstatement works are completed.
"Repair works to the Gwern Y Gaufron culvert will begin on Monday 12 October with two-way traffic lights and a temporary bridge in place. The road will be closed from Saturday 17 October until Monday 2 November to allow the new permanent structure to be installed. Pedestrian access will be maintained at all times.
"We would like to thank our residents and road users for their understanding and cooperation, and apologies for any inconvenience that these traffic control measures and road closures cause."
Residents are reminded to not ignore road closure notices and safety signs, to plan their journeys in advance and to follow the signposted diversions.