Powys is at risk - please stick to the rules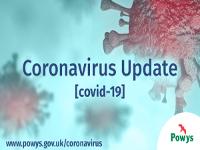 16 October 2020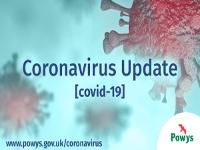 People living in Powys are being urged to follow Covid-19 rules to help prevent the spread of the virus.
Community transmission of the virus remains a real concerns and people are being reminded that it is still a risk to the public.
Although cases are restricted to handfuls in different communities in Powys, they are widespread. Unless people stick to the rules, it is feared the virus could start to spread more widely.
Cllr Rosemarie Harris, Leader of Powys County Council, said: "I'm sure that residents have been following the news and can see that cases nationally are increasing and new control measures are either being considered or implement in a number of areas in Wales.
"The picture in Powys is similar. Although cases remain relatively low, the virus is in the county and the upward trend of cases is worrying.
"As a county we have breached the 50 cases per 100,000 mark which is the level that takes the county into the red. The council is in regular contact with Powys Teaching Health Council, Public Health Wales and Welsh Government discussing local measures that could be considered for Powys.
"Responsibility for deciding on the measures lies with the First Minister and Welsh Government and we will inform residents should any decisions be made on any local measures."
With schools in Powys starting a two-week half-term break next week, Cllr Harris is urging families to enjoy the break safely and do everything they can to slow the spread of the virus,
"The best way to reduce the spread of coronavirus is to limit contact with other people, and this is also the case for children and young people," said Cllr Harris.
"I know there is a temptation to meet with others especially if we have fine weather, but we must maintain our discipline. The best way to reduce the spread of the virus is to limit contact with others.
"We all have a personal responsibility in controlling the spread of the virus. The situation can change very quickly. A rise in cases of the coronavirus could see local measures being put into place. By observing the latest Welsh Government rules, we can keep Powys safe."
All of us in Powys must:
Keep two metres apart from anyone we don't live with
Self-isolate if we're asked to by a contact tracer, or if we have Covid-19 symptoms (new continuous cough, high temperature, loss of taste and smell)
Get a test if we have any of the symptoms
Wear a face covering indoors and on public transport
Only socialise in max groups of six people from our extended household 'bubble' - this is a max of four households
Provide full contact details when visiting business premises as part of Test, Trace, Protect
Work from home wherever possible
And all licensed premises must stop serving alcohol at 10pm, and have to close by 10.20pm, as well as having robust measures in place to protect customers.