B4355 due to reopen shortly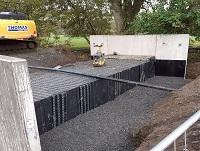 30 November 2020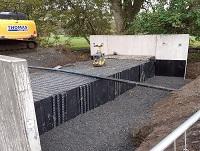 Following emergency repair work to two flood damaged structures at Gwern Y Gaufron and Pennant Pound on the B4355 between Dutlas and Lloyney, the road is due to reopen on Sunday 1 November.
A pattern of unprecedented weather conditions and debris blocking culverts, resulted in the damage and subsequent collapse of a number of structures on the road back in August.
Emergency works were carried out almost immediately to get the road reopened before the end of the school summer holiday, with the more permanent repairs and road closures taking place into the Autumn and over the current half-term break.
"Works to repair the damaged culverts between Dutlas and Lloyney have gone well, despite the recent wet weather conditions." Explains Cllr Heulwen Hulme, Cabinet Member of Highways.
"The road is due to reopen on Sunday with two-way traffic lights in place whilst reinstatement works are completed on this latest phase.
"Work on the damaged Fedw Lwyd culvert till needs to be completed, but it is hoped that this can be done under traffic lights to avoid further disruption to road users. It is anticipated that these works will be finished by the end of November.
"We would like to thank our residents and road users for their understanding and cooperation throughout the duration of these repair works."