Former paratrooper helped with hoist at home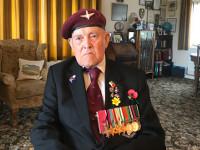 November 6, 2020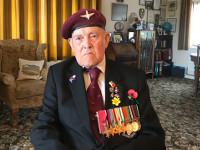 A former paratrooper is now receiving improved care handling from occupational therapists after they introduced the use of a new hoist at his home.
World War II veteran Jack Ellis MBE, who lives in the north of the county, receives care from Powys County Council.
Mr Ellis requires help transferring from bed to chair. Until recently he has been transferring using a 'banana board' and this had been a struggle as it put strain on his upper limbs and he was really in need of the help of two carers to do this.
Jo Barton is the Occupational Therapist (OT) who has been working Mr Ellis. She explained; "After a long discussion with Jack and his granddaughter Jayne Hill, I advised on hoisting as an alternative method of transfer, which he agreed to."
"I arranged for hoists to be fitted and, as a ceiling track was already in place and Jack has good bed mobility, he was able to be hoisted with a single carer which also generates savings to the taxpayer," she explained.
"Apart from the financial savings, Jack said that he no longer has any pain in his shoulders and he feels that he has more energy to do what's important to him," she added.
Mr Ellis explained: "Having the tracking hoist has taken the stress and risk of transferring from my bed to my scooter and then into my armchair. This particular piece of equipment has improved my quality of life and given me continued independence as without it I may not have been able to stay in my home."
"I am very grateful to my granddaughter Jayne and my OT Jo Barton with support from Social services for everything they have done to support me to remain at home safely," added Mr Ellis.
Councillor Myfanwy Alexander is Cabinet Member for Adult Social Care. She commented: "'This story illustrates how Powys County Council is committed to improving the care of our residents and will deploy the latest technology to help them live their lives as well as possible, investing in better outcomes.'"
Mr Ellis served in the 10th Battalion Royal Welch Fusiliers which then converted into the 6th Battalion (Royal Welch) Parachute Regiment during WWII, he was in Italy, North Africa and Palestine and Greece. His experiences have been filmed as part of the BBC's 'I was There' series and can be found in a great interview on YouTube at https://youtu.be/rr1yxxZF3Pk