Have your say on the 'Growing Newtown' project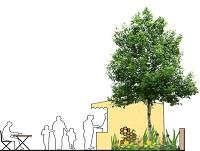 16 November 2020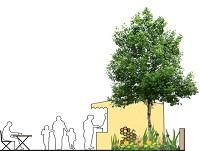 Plans for the green infrastructure project in Newtown are taking shape and now it's time to 'have your say'.
The 'Growing Newtown' project forms part of Welsh Government's Transforming Towns Programme which supports economic regeneration and wider sustainable development.
Powys County Council in partnership with Newtown & Llanllwchaiarn Town Council have finalised the details and plans for Newtown's town centre and are launching a consultation to capture the views of Newtown's residents and town centre business owners.
Cllr Iain McIntosh, Cabinet Member for Economic Development & Regeneration, said: "It's great news for Newtown that we have been able to secure £500,000 in grant funding from Welsh Government for the Grow Newtown project.
"Along with Powys County Council's contribution of £240,000 and a further £20,000 contribution from Newtown & Llanllwchaiarn Town Council, we can really make a difference by rejuvenating four areas within the town centre: Back Lane and High Street junction, High Street, Severn Square, and Gas Street Car Park.
Cllr Heulwen Hulme, Cabinet Member for Environment, added "The funding will allow us to make much-needed improvements to these areas such as resurfacing works, enhancing green space, and improving drainage.
"But we really want to make sure the residents and town centre business owners of Newtown are happy with our plans - it's their town after all.
"This consultation will allow people to comment on the proposed plans and make suggestions of their own. We are all really looking forward to what everyone has to say and how that is going to positively impact Newtown town centre."
A representative from Newtown & Llanllwchaiarn Town Council commented: "This is a wonderful investment for our town and residents. We have been able to access funds that would go elsewhere in Wales if we had not been able to develop this improvement scheme with our partners. Investment in our town at this difficult time is very welcome indeed.
"Bringing more trees into our town centre, reducing the amount of waste rainfall water, and adding colour and environmental changes are all part of tackling climate change which is a top policy of both Powys and Newtown Councils.
"We hope that businesses and residents will be pleased with the plans that should be completed next year".
A live Zoom webinar will be held on Wednesday 18 November at 6pm, where the plans for the town and how your feedback will help bring these to fruition, will be explained in full. To join the webinar, please follow this link: https://zoom.us/j/93129114084
Full details of the consultation and how you can have your say on the plans for the Growing Newtown project, can be found online here: https://www.growinpowys.com/haveyoursaynewtown