Download ebooks and eAudiobooks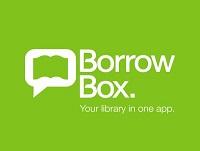 Members of Powys Libraries can borrow eBooks and eAudiobooks for free, from BorrowBox. You'll need to be a member of Powys Libraries and you'll need your library PIN to log in.
Thousands of eBooks and eAudiobooks for adults, children and young people, all from one website.
On a smartphone or tablet install the BorrowBox app, which lets you search for and download eAudiobooks and eBooks easily through the same app.
Otherwise download eBooks to a computer and transfer them to a compatible eReader; and download eAudiobooks to a computer to transfer to an MP3 player.
Go straight to the BorrowBox website
New! You can also find the eBooks and eAudiobooks listed in our main library catalogue, and borrow instantly from there. If you have not used BorrowBox before, the first time you download an item you will be asked to sign up with BorrowBox, and you will be prompted to install the app or download the item to your computer. See setup guides below for more information.
Not used the service before?
Choose from one of the set-up guides below. If you need any further help please contact us.